News 2019
September 10
"Nellie" Bogaloo's Girl Power At Spring Ace has been again in tracking competition with Ann-Helen and got there another 1'st price and got her title, we are so proud of them.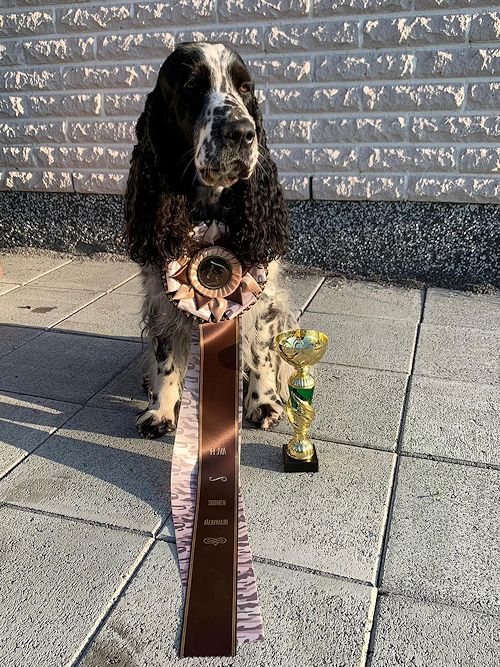 Nellie new Championtitle

August 26
"Dottie" B.Hungry Heart did travel to Finland to Pöytyä to do the huntingabilitytest. and passed so now she is new FINNISH CHAMPION & NORWEGIAN CHAMPION.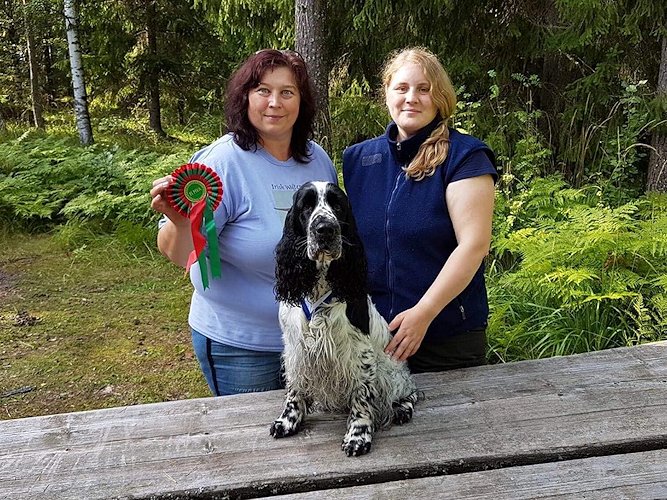 Judge Sari Vottonen and Isabell with new Champion Dottie
August 19
Yesterday was "Nellie" Bogaloo's Girl Power At Spring Ace in Kauhava gr.show and was there getting BB-1, CC and BOS.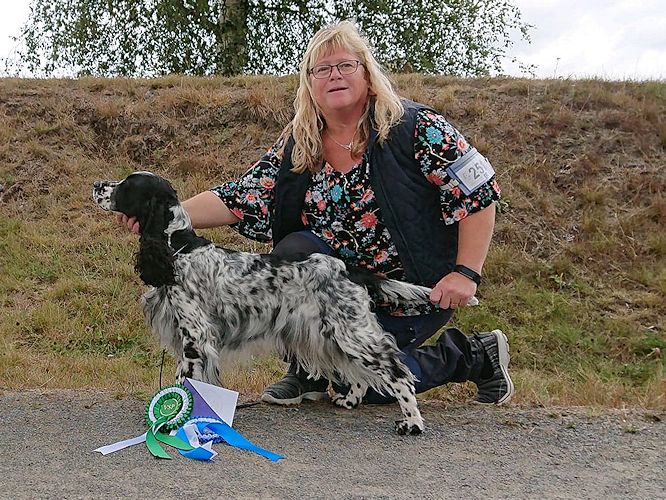 All Puppies have now moved and we are trying to get good routines in house with little "Jessie" Bogaloo's Just A Heavenly Scent togheter with our adult wildsters, she seem to be extremely talented in reading the other dogs bodylanguage so so far it is going just superb :)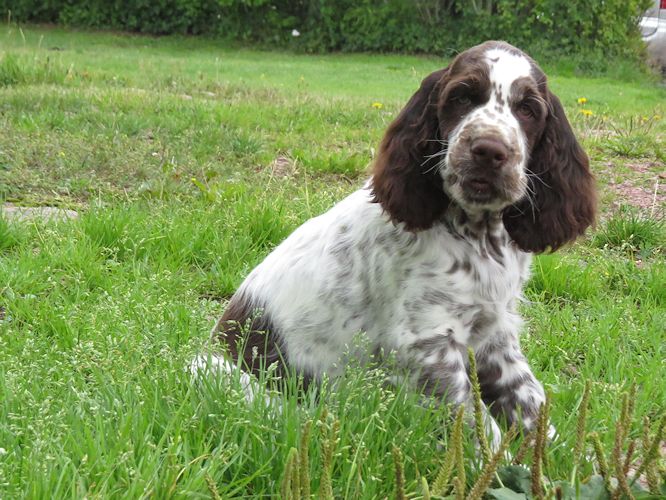 August 10
All puppies has found their homes, "Jessie" will stay here. It has been a really busy summer with them and so much fun, we have never had this calm and wellbehaved puppies before, so easy going personalities. There has been no shows during summer due to the puppies at home.
June 10
We have puppies, she got 2 boys and 4 girls, we lost one girl which was very weak when born. They are now 10 days and so cute, eat and sleep and looks like small footballs :)
In end of May we also had our yearly group show in Lemland. As usuall we had Isabell visiting with her dogs and also this year "Dottie" B.Hungry Heart did well in the show and she was BB-1, got her last Finnish CC and was BOS.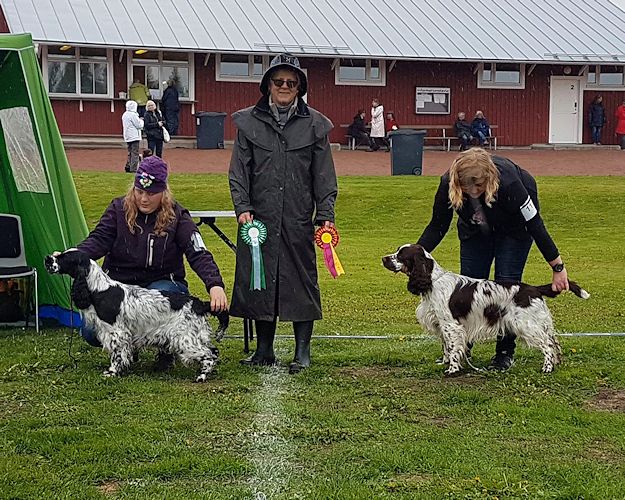 Dottie BOS and BOB was Norwegian dog Bjøsi's Massey Ferguson
"Greta" B.Gypsy Flower got Exc2 and "Ivan" B.In Love And War made his debute and got Vg3. "Becca" Sofalex Bogaloos Brazil Da Silva got a Vg also. Rainy windy day.
On top of that "Dottie" B.Hungry Heart also started rally obedience and got two nice results and new title RLDN.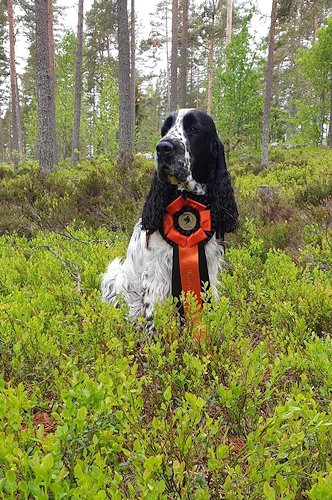 May 08
We've been on a weekend trip last weekend to Pöytyä Group show, we bringed 3 breeds with us and had change of judge on all 3 of them. Well, we got for springer breed specialist Sanna Kavén (Wildomar's ESS) so it went just even more exciting there.
We had only one ESS with, and that was "Greta" B.Gypsy Flower, she showed nicely as she always do and ended up not just BB-1 with CC but also BOB!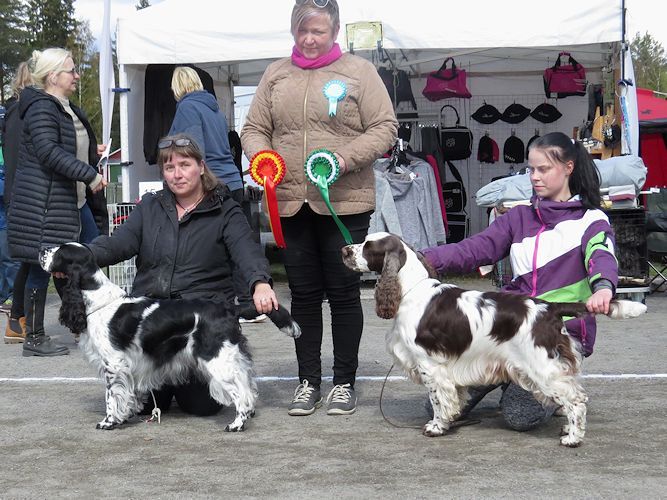 Greta BOB - BOS Adatza's This Is Your Song
"Becca" Sofalex Bogaloos Brazil Da Silva didnt at all fit the new judges taste and she got her first finnish Vg.
Now we have 2 more shows ahead and then we will just wait for the puppies

April 06
New photo of "Ivan" B.In Love And War, almost 15 months old
April 01
Finally some puppy news. "Hilda" B.Heavenly Anthem is now mated, puppies hopefylly in end of may/beginning of june. More info on puppy page.
March 04
"Inez" Bogaloo's I'm In The Flow was x-rayed and got her officiall result A-A hips and 0-0 Elbows.
New photos of "Indie" Bogaloo's India Silk 1year old.
January 29
We've been on a weekend trip last weekend where we started with Turku Int.Show.
We got unfortunately watertail to "Greta" B.Gypsy Flower and even if it was almost well at showday we do not want to show her if not in perfect condition (tail was obciously still a bit tired and we want her to look as the happy dog she also is) so she was tourist at the show. "Hilda" B.Heavenly Anthem did participate, and she got there her first Vg and ended as Vg4. She got a lovely evaluation but everyone do not like same type and kind of dogs so today she wasnt what this judge liked.
"Dottie" B.Hungry Heart came for the show also from Sweden, her first show after her litter of puppies in September, and she got there Exc3.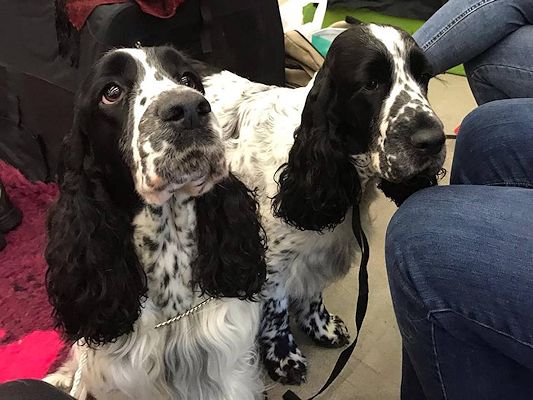 Sisters Hilda & Dottie beside showring
Our little "Becca" Sofalex Bogaloos Brazil Da Silva was tired after a long day at showplace (she showed very late) and even if showed nice she suddenly when entered the ring thinked that was more fun to sniff the ground than to concentrate on me, this was a new trick from her which surprised me.
She got anyway there nicely Exc1, Cq, BB-2, Res-CC and Res-CACIB.

We did then spend time in a very comfortable apartement the night and next day went to eye check our black girls. This time we did also Gonioscope them, and Eyes clear in both, and Hilda Goniscopy ICAA Iridocorneal clear, Greta Gonioscopy ICAA Iridocorneal moderate, we then descided when also her sister "Nellie" has note that has also changed since last check in Gonioscopy, that we will not breed to Greta when she wasnt clear.
This is life, life happens as it is said and no matter, she is still "the best" and we love her to bits <3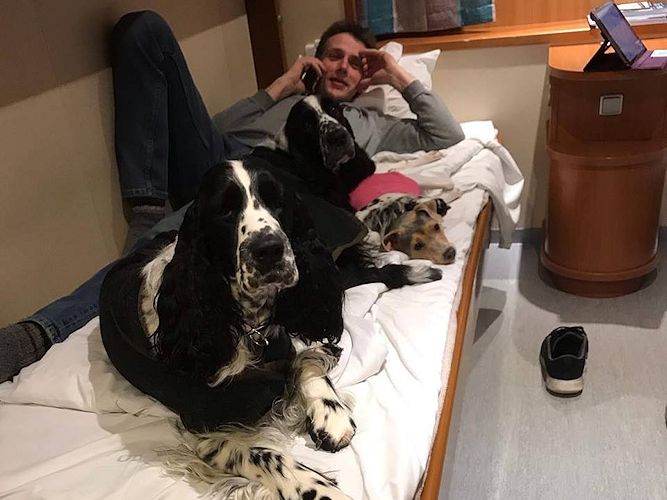 Girls and Kicke in the ferry at way home

We now instead plan a litter with our funny clown Hilda, so maybe future will give us one more active impulsive member to family. More info later.
῀῀῀῀῀ ῀῀῀῀῀ ῀῀῀῀῀ ῀῀῀῀῀ ῀῀῀῀῀ ῀῀῀῀῀ ῀῀῀῀῀ ῀῀῀῀῀ ῀῀῀῀῀