News 2018
July 28
Since the last update has in Sweden been the big Club Show, there was two of our H-girls entered, "Dottie" B.Hungry Heart got there Exc4, out of a class of 18. In same show was also"Hetty" Bogaloo's Happy In My Heart first time in openclass (both was) and got a nice Exc- there, "Hetty" has also been in a inoff since last update where she was not just BOB and BIG-1 but went all the way to BEST IN SHOW!!!.
"Chubby" B.Ghost Whisperer At Larix was entered the day after in Högbo and got there a Exc-.

TODAY little "Inez" Bogaloo's I'm In The Flow been on show again to Ljungby Inoff. She was there nicely BOB-puppy in this superwarm weather and ended up as not just BIG-1 but also BIS-4 Puppy!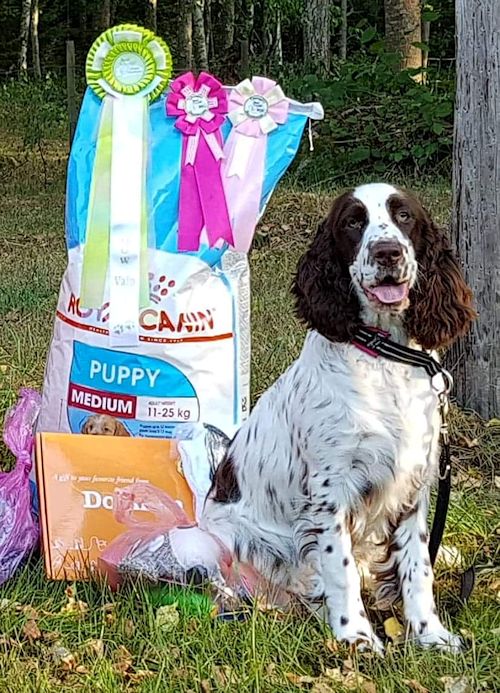 Inez with her nice wins from the show
We do not get som much done otherwise due to the extreme heat and dryness outside, dogs looses muscle condition when have to stay mostly inside, so no use to enter to any shows when not in hard nice thight muscles :(
A little while in evening is the only possible time to play a bit outside.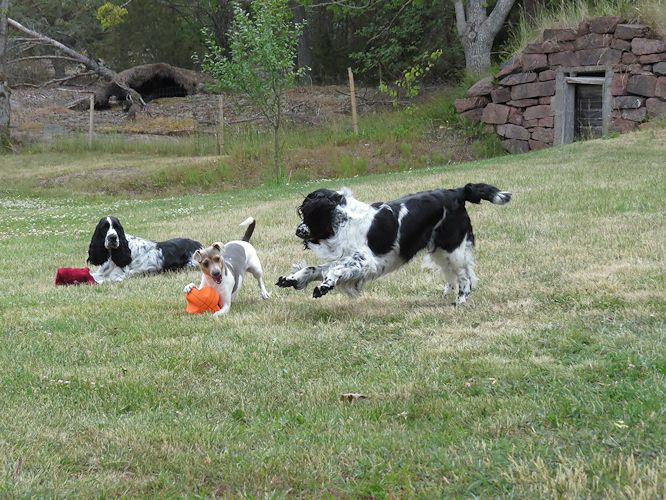 Girls play in the non-living grass in late evening when bit cooler

June 17
"Hetty" Bogaloo's Happy In My Heart was again to a inoff.show this time she was BOB, BIG-1 & BIS-2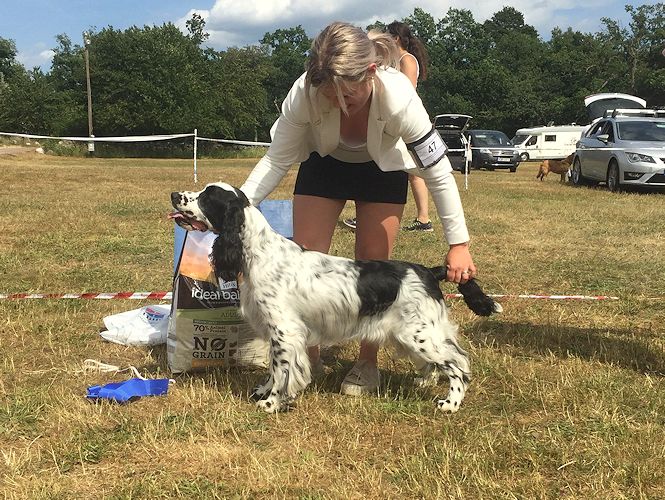 In same show was also "Inez" Bogaloo's I'm In The Flow making her puppy debute. She was nicely BOS-Puppy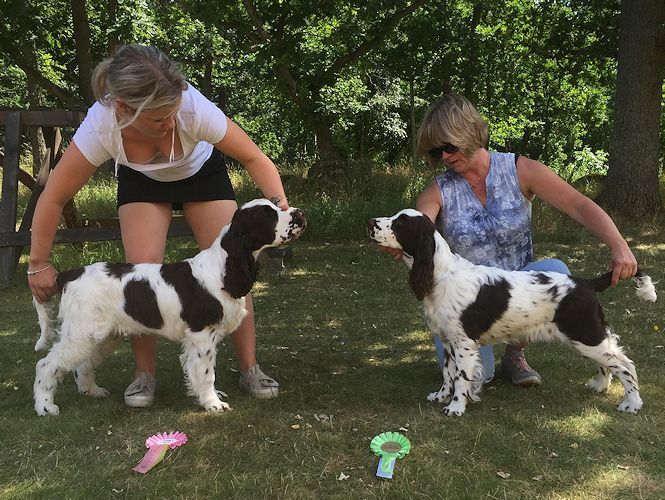 BOB-Puppy Wilmio's Nothing Else Matters & BOS Bogaloo's I'm In The Flow
Today was "Leah" Bogaloo's Follow The Leader in Tracking test in Finland and got there her second 1'st price in open class, now she move up to winners class.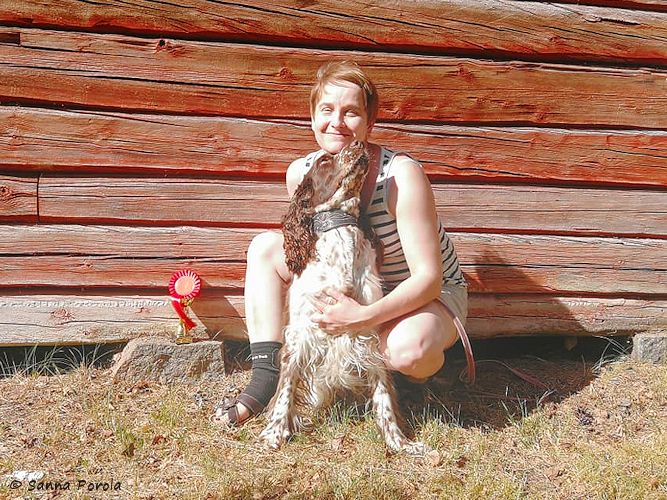 June 09
"Hetty" Bogaloo's Happy In My Heart has been to a training show today, and she celebrated Åland Island selfdependence day by being BOB and BIG-1, judge was Heléne Nilsson Andersson.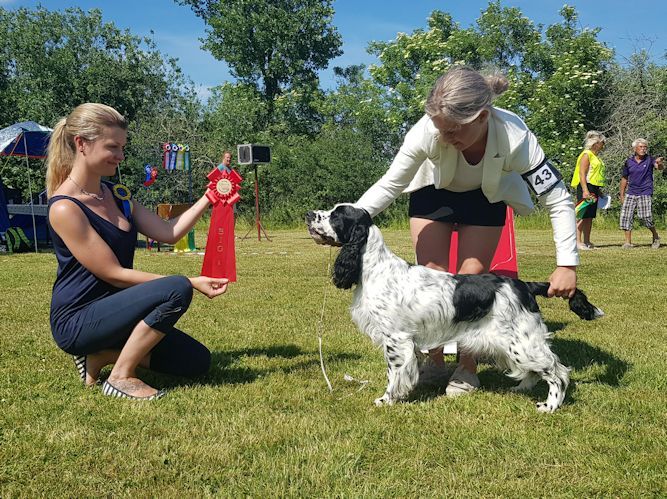 May 27
Yesterday was some of our breedings in show.
In Finland in Vasa Gr.show was "Nellie" Bogaloo's Girl Power At Spring Ace entering one more show, in motherly dress (lost coat) but happily showing to a Exc1 under breedspecialist Sanna Kavén.

In Sweden in Gimo Nord.Show was "Dottie" B.Hungry Heart entered and got a Exc2. In same show was also "Chubby" B.Ghost Whisperer At Larix entered and got a VG (was too short in body and narrow, WHAT?) , so lovely to see him again in full showpreparing in ring, just looking so great <3
May 22
Last weekend we had "Dottie" B.Hungry Heart and Isabell visiting. We did enter the Lemland Gr.Show and results was really nice for all the girls.
Our little blue star "Becca" Sofalex Bogaloos Brazil Da Silva was Exc1, Cq, BB-2 and Res-CC.
In springer ring we had 3 girls.
"Hilda" Bogaloo's Heavenly Anthem was Exc2, Cq, BB-1 and Res-CC.
"Greta" Bogaloo's Gypsy Flower was Exc1.
"Dottie" B.Hungry Heart did a repeat from last year and was Exxc1, Cq, BB-1, CC and BOB !!!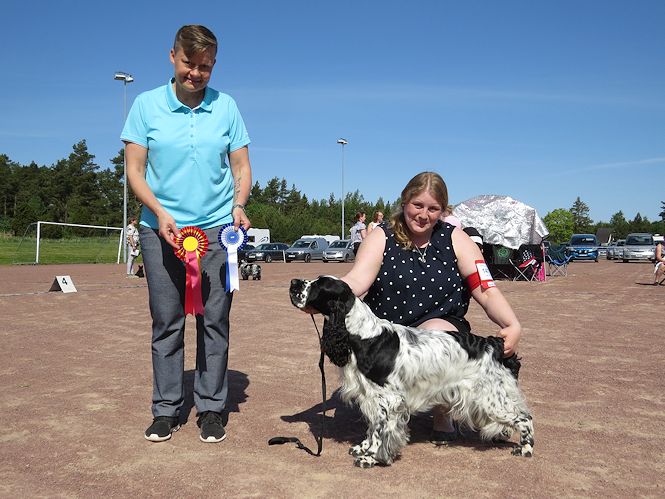 Same day was also "Nellie" Bogaloo's Girl Power At Spring Ace doing comeback after her nice litter of puppies which is now 12 weeks old, she was Exc1, Cq, BB-4.
Was a really sunny and nice weekend.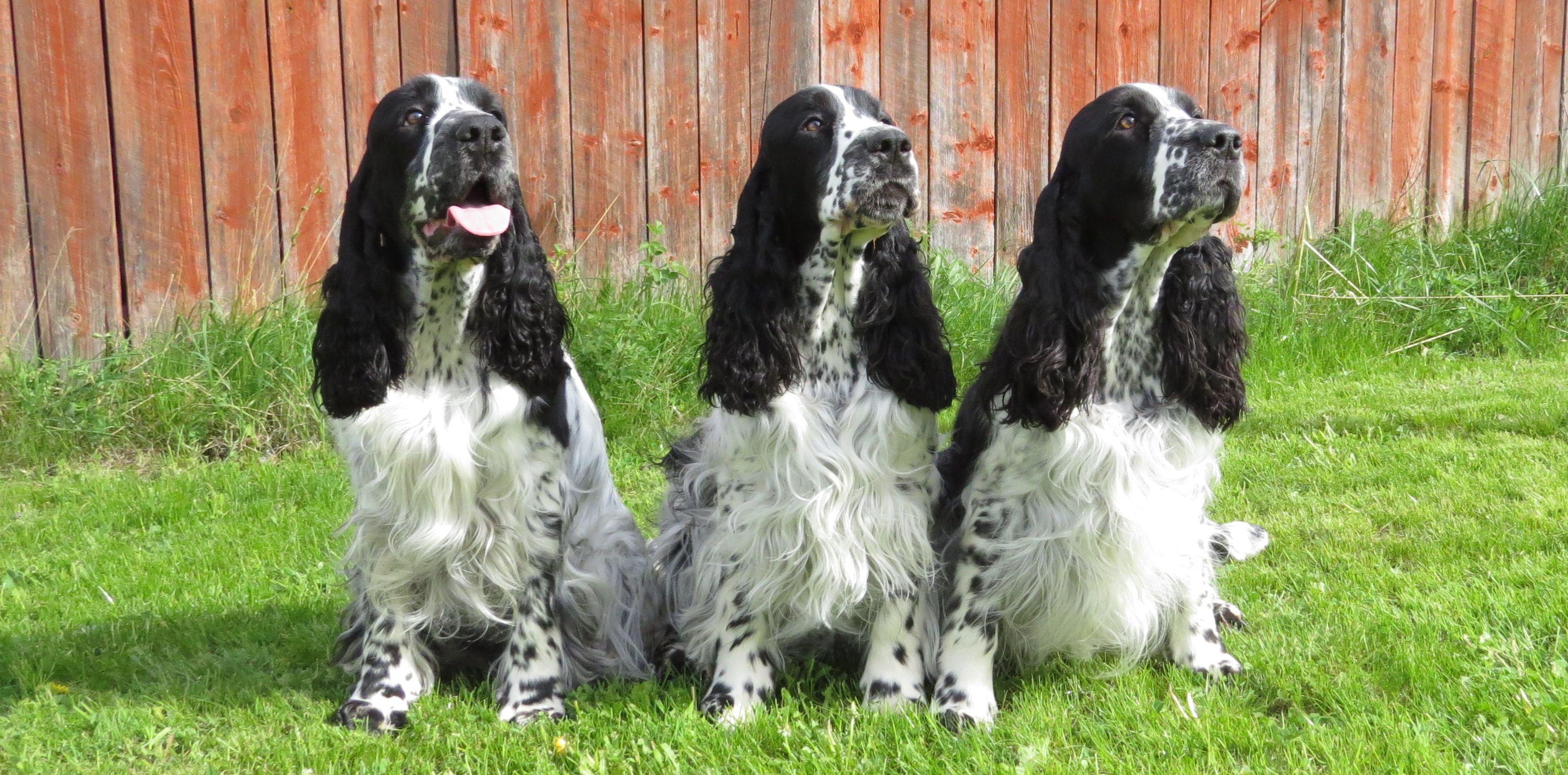 April 29
Some more news. Last puppies moved to their homes, "Isac" B.In God We Trust moved to his big brother "Hille" B.Honky Tonk Man.
"Inez" B.I'm In The Flow got a lovely Gordon Setter lady as her new housemate :)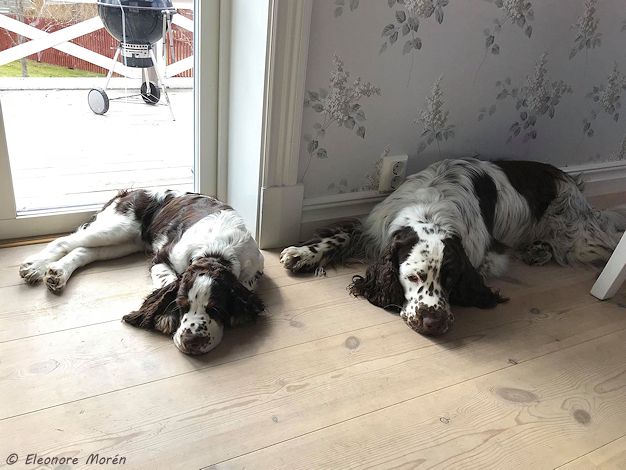 "Dottie" B.Hungry Heart competed in obediencetest startclass two days in a row, with approved result both days.

April 11
Finally some small updates. Today it was "Betty" B.I'm On it that got a fast trimming and some snapshots, 13 weeks old now.

March 24
We are now working on new homepage again, cross my fingers this will work nicely now.
We will update page by page as it gets ready. It takes more time than when made the old page as this one is made in another software and of course that one is also new to me :)
Due to some "safetyholes" in wordpress system our homepage was hacked and infected our whole webspace with malware, so we did now re-open instead the old homepage again, new isnt always better obviously. But now finally got some energy to start over and make a fresh webspace again.
LOT of info is lost, more than a years updates but all that was updated at the wordpress site for more than one year is lost, so be patient, we will sooner or later catch up... hopefully!
We will try as fast as we can to update wh
at is l
ost, time isnt anything that we have too much of unfortunately.